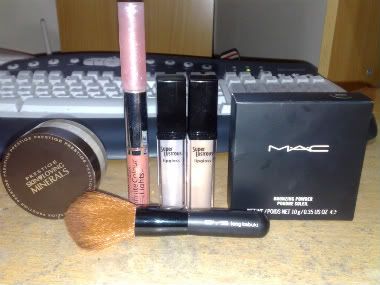 I hate having time to spare before uni starts, because i buy soo much things.
Prestige skin loving Minerals in Fair. $27.95
Rimmel Infinite Lights in "Light Hearted" $5.80
Revlon Super Lustrous LE Lipgloss in
Tickled Pink: Clear gloss with magenta shimmer $9.95
Bare Essentials: sheer peach with orange pink shimmer $9.95
MAC Bronzing powder in " Bronze" $39.00
BYS Long Kabuki Brush. $7.95
It's very soft like MAC but i know in the long run it will shed.
Gstar Raw hoodie. $189.99 down to $89.99 YAY
Last white one in small from GLUE Parramatta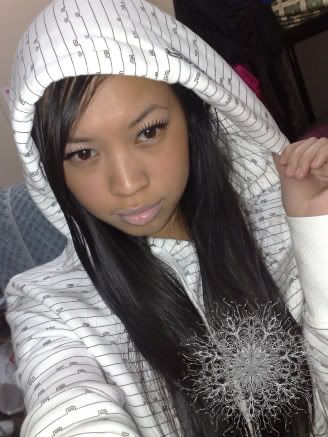 PSLM Foundation 'Fair'
MaxFactor Masterpiece glide & define liquid eyeliner
Model21 Faux Lashes '9'
Concealer on lips with Revlon 'Tickled Pink' lipgloss
MAC Bronzer 'Bronze'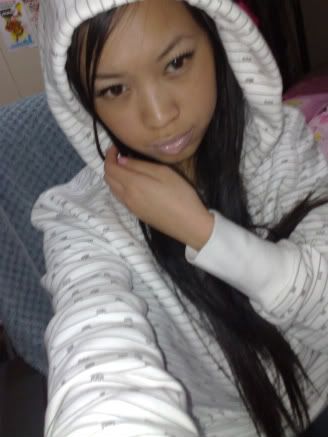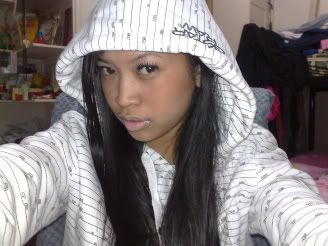 Its getting so cold in Sydney.
Cold means i get lazy, no shaving unless im going out
I dont get all much out of clothes either, usually jeans and jumper ++. I actually look like a fat ball of turd in the amount of layers i wear to keep warm, i dont know how those other girls wear stockings with mini skirts and summer dresses, a light cardigan and scarf. ARENT YOU FREAKING COLD???? i know you dont have super powers to stay heated!!
I really should be studying for final exams, but then i get distracted.
When im at uni im on facebook playing sketch, watching tv shows
HERE.



im so going to fail fail fail!
-----------------------------------------
TOday was the first time my boyfriend let me ride with him on his motorbike. It was so scary going 0-90 km/hr on the Cumberland Highway. I feel most comfortable going 60 km/h which is granny speed to him haha.
It may seem like nothing but to me it is a very significant step to our relationship, He's only let like a few very special girlfriends on his bike and now im one of them, and hopefully the last. He loves his bike more than me, i know that and i've accepted it. Im not going to try to make me his number one priority like i did with my ex.
Which leads me to an interesting taxi ride home from my friends 19th. The taxi ride consist of myself, terence Josh and my ex. I think that was the first time we talked properly since he broke up with me which was about 3 years ago. Just to break it down and my lesson learnt. Even if i didnt know the truth, its really bugged him keeping things away from me. No wonder he was so aggro which could have subsequently turned me into a mega bitch. Like i said " Honestly, i dont remember how the relationship was" its true, it probably does mean nothing to me.
I dont want to make the same mistakes with my current boyfriend, i think thats why im so submissive and that i dont really expect much from him. I just want him to be there with me, not to work too much that he's tired when he gets home. I dont want us to be rich, have a massive house and have no affection and love between us. If we're poor, eating rice with eggs everyday, counting every silver coin we make just to make ends meet and have a committed happy honest relationship, thats all i want. It's all i want.
These photo were taken so long ago, when we were skinny haha now we just eat at 1030pm then have a quickie and go to sleep.