Im at my boyfriends place because my net is at it Max capacity at home.
I have worked WAY to much on this group assignment and i so believe my contribution is enough.
Here i tried
Holly Ann-Aeree's
"everyday" look but using the Modelista "Barcelona" Quad (Target $12.99). LOL, i can't do what she can do. Well, better than nothing!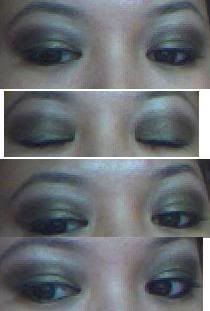 as you can tell, i suck at paint let alone photoshop. ttyl! Take care sweetie pies
P.S. The lump on my right breast turned out to be nothing cancerous. Thank goodness! Just a lump of fat! But i should still feel it if it changes or anything. Im trying to be healthier, drinking water only, but it taste terrible but i must if i want to reach my goal.